Hope you are all out enjoying the beautiful weather after our cold January and start of February.  My husband and I love our walks in the mornings.
After looking over the City's website, I would like to remind you that we have a relatively new Neighborhood  Depository at 9003 North Main (N Main – north of Crosstimbers).  You may take your recyclables and junk waste there from 9 am to 6 pm 7 days per week.  Bring your Driver's License or recent utility bill to prove that you are a resident.

View Larger Map
There was also a bit of information new to me.  The company, Jaco Environmental, has a program for recycling refrigerators, freezers, and room air conditioners.  I went to their website (www.jacoinc.net) and there was a place to enter your zip code to start the process.  I didn't enter mine as I have no appliance to recycle.  But the info on the website said that they recycle 95% of the components, that pick up is free, and they give a $25 rebate.  If anyone tries this, let me know how it goes!!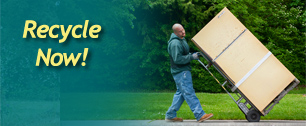 Many of you know that another source of information about the neighborhood (quite complete and well researched) is the online newsletter Nor'westener 3-3-11.  Ben Crabb, of Timbergrove, writes it.  His email is bncrabb@comcast.net and I am sure that he would add you to his readership if you contact him.  Each issue has excellent info and I go there to be sure that I haven't missed something of great importance environmentally to share with you.  In January, Ben wrote up a very comprehensive article about home lighting.  He had a great deal to say about which bulbs (incandescent, LED, or compact florescent) are best.  To boil down my views on the matter, as long as you recycle the spent florescent bulbs (IKEA), they are much cheaper and better for the environment than incandescent which squanders a large percentage of energy on making heat.   LED (Light Emitting Diodes) have the potential for being the cheapest, after you factor in the length of time that they continue to work.  However, they are a larger investment.  I will email the article to you so that you can take advantage of all of Ben's work if you email me.