Pay your membership dues and donate to the Lazybrook Civic Club online via PayPal by clicking the links below. You do not have to have a PayPal account to take advantage of our online payment option.
We appreciate your support in helping us keep Lazybrook a great place to live!

Click the "Donate" Button to Pay your $40 Dues and or Donate to the Lazybrook Civic Club
Help support regular operations and programs, including 18th St maintenance, mosquito spraying, green space maintenance, etc…
---

Annual Membership – Auto Subscription
Subscribe here and PayPal will autopay every 1yr the Annual $40 Lazybrook Civic Club Dues

This can be cancelled any time in your PayPal account settings

Advertising Payments (get QR code)
For our newsletter advertisers
---
---
Alternatively, you may pay by check. Click the image below to print this form and mail your completed form and payment to the address below, or bring it with you to the next Civic Club Meeting.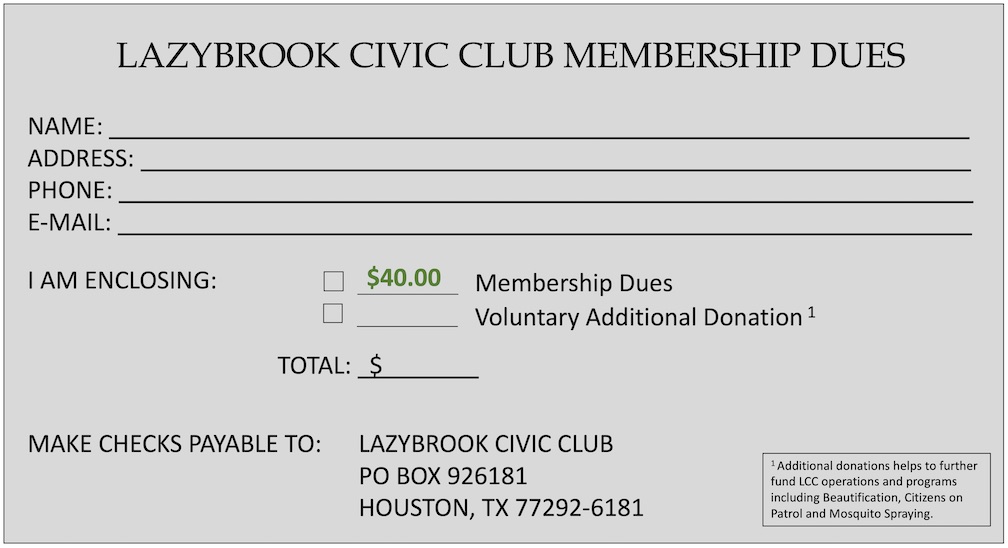 If you have questions about your membership dues, please contact Eddie Yarbrough, our membership chair at membership@lazybrook.org.