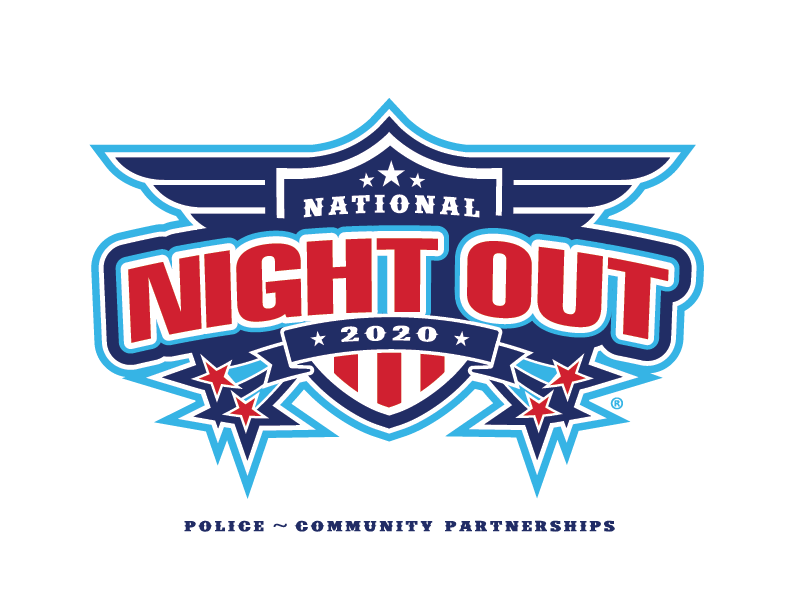 NATIONAL NIGHT OUT IS TUESDAY, OCTOBER 6, 2020
National Night Out is an annual community-building campaign that promotes police-community partnerships and neighborhood camaraderie to make our neighborhoods safer, more caring places to live. National Night Out enhances the relationship between neighbors and law enforcement while bringing back a true sense of community. Furthermore, it provides a great opportunity to bring police and neighbors together under positive circumstances. This is a critical goal in 2020!
The National Association of Town Watch introduced National Night Out in August of 1984 through an established network of law enforcement agencies, neighborhood watch groups, civic groups, state and regional crime prevention associations and volunteers across the nation. Annually, neighborhoods across the nation host block parties, festivals, parades, cookouts or various other community events with safety demonstrations, seminars, youth events, visits from emergency personnel, exhibits and much, much more. However, this year, it is recommended that we coordinate smaller National Night Out events that follow local CDC guidelines and thus do not involve sharing food and beverages or gathering without social distancing and wearing masks.
Given that the Houston area is still experiencing high rates of COVID-19, it is recommended that we consider alternate ways of coming together. This could include:
1. Preparing or ordering food for our local law enforcement officers, firefighters and EMS personnel for delivery on Oct. 6, 2020.
2. Organizing caravans or parades through the neighborhood.
3. Planning a virtual NNO and inviting the Chief, Sheriff, Mayor, etc.
4. Turning porch lights on throughout the community.
Please contact your Lazybrook Block Captain (see the next page for a list) or Megan Mooney (meganmooney@sbcglobal.net) to help "host" an event or join in planning to support our local first responders! We would love to find creative and safe ways of getting to know each other better while enhancing our neighborhood and the people who serve our community!